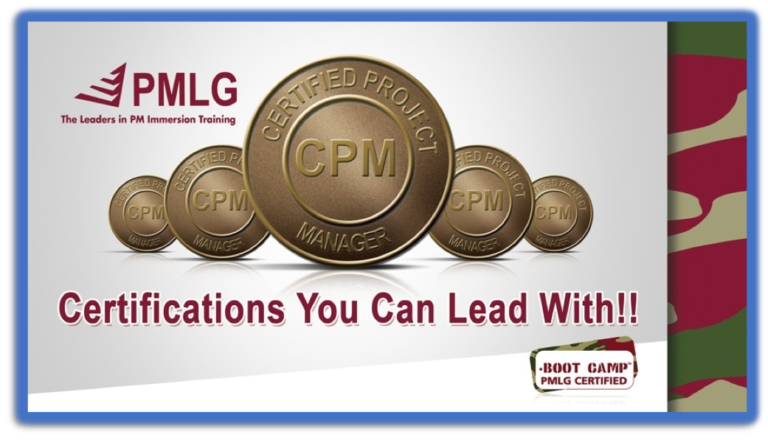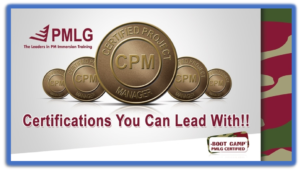 "Examination-based Certifications are "Like a Box of Chocolates…You Never Know What You are Going to Get"
A significant problem with examination-based leadership certifications is that they test knowledge but not capabilities.  A recipient of an exam-based certification has demonstrated their memorization and test-taking skills but not their ability to successfully lead.
Our certifications are performance-based. To become certified, candidates must demonstrate the abilities, confidence, and discipline to successfully lead teams and projects, programs and/or portfolios of any size and complexity.
Certified Project Manager (CPM) Leadership Boot Camp™
The world's only experiential-based project management and leadership training and certification program. No matter what your incoming experience level, you will learn and increase your abilities and positive results in leading teams and projects of any size and complexity using our tools and best practices. You will also get to exercise your competitive nature by working in teams on a class project throughout the week.
Program and Portfolio Management Certification (PPMC)®
An advanced certification in program and portfolio management, PPMC® uses several case studies to provide participants with the experience in applying best practices in tools and skills as well as the discipline to successfully implement and manage strategic portfolios.
Program Management Mastery (PMM)™
The PMM is an experiential-based advanced certification in program management. Graduates will learn and practice advanced tools and best practices in leading programs of any size and complexity as well as teams of project managers.
This four-day experiential-based training and performance-based certification program will provide you with the knowledge, skills, experience and confidence to successfully lead with agility.
Advanced Risk Management Certification (CARM)
This exciting three-day experiential-based training program uses PMLG's robust yet easy to facilitate risk management process. Working in teams using a class project, participants will use proven tactics and tools from project initiation through closing, ensuring that the project, stakeholders and organization are protected. This advanced class includes both qualitative and quantitative risk assessment techniques and practical options for responding and controlling risks.
Contact us at 678 325 1100 or information@pmlg.com to find out more.