For over the past 25 years, we have delivered the world's only experiential-based project, program and portfolio management training and certification programs to rapidly mature the skills of our client leaders.  These exciting certification and training programs fully immerse students into realistic business scenarios in which they learn through apply practical and proven tools and techniques for success.  Our certifications are performance-based.  When we certify a leader, they have demonstrated that they possess the skills, capabilities and confidence to successfully lead projects, programs and strategic portfolios.
The world's only experiential-based project management and leadership training and certification program. Over 30,000 leaders have successfully completed this challenging and powerful five day training and certification program.  Certified Project Managers (CPM)™ have demonstrated the skills, confidence and discipline to successfully lead projects of any size and complexity.
An advanced certification in program and portfolio management, PPMC® uses several experiential-based case study scenarios  to provide participants with a realistic and immersive learning environment.  PPMC graduates have demonstrated the skills, confidence and knowledge to successfully transform their organizations to an environment that supports program and strategic portfolio excellence.
The Program Management Mastery is an exciting experiential-based advanced certification in program management that completely immerses students into a dynamic and challenging strategic initiative in which they apply the practical and proven program management tools and techniques that help ensure program success.   Graduates receiving their PMM certification have demonstrated the leadership and program management skills, knowledge and confidence to successfully lead major programs.
This four-day experiential-based training and performance-based certification program provides the skills, experience and knowledge to transform an organization to a culture of Agile leadership and to successfully apply the Agile approach..
This exciting three-day experiential-based training program uses PMLG's robust yet easy-to-facilitate risk management processes.   Working in teams and using realistic projects, participants will use proven risk tactics and tools from project initiation through closing, ensuring that the project, stakeholders and organization are protected from failure.  This advanced class includes both qualitative and quantitative risk assessment techniques and practical options for responding and controlling risks.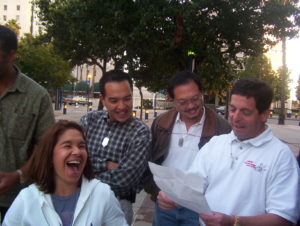 '